With 10 models to choose from, Blue Bird offers a full line of Micro Bird Type A pdfes to meet your specific needs.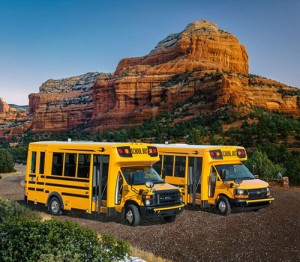 Drawing on more than 80 years of experience, Blue Bird has developed a Type A line that meets or exceeds all requirements of the Federal Motor Vehicle Safety Standards—for both standard seating and wheelchair accessibility models.
With seating from 10-30 passengers, each Micro Bird model is engineered for quality and equipped with the very latest safety features, including: a heavy-duty steel roll cage, purpose-built passenger seats, a full-view outward opening entrance door, and a special driver view window.
Micro Birds are available with a choice of Ford or GM chassis, of gasoline or diesel engines, and or single or dual rear wheels so that customers can be assured, there is a Micro Bird equipped to meet your small pdf needs.
Chassis Advantages
Blue Bird's trademark one-piece roof bows provide maximum roll-over strength.
A variety of seat plans and configurations, including track seating and special needs options, offer customers optimal flexibility to meet specific passenger needs. Available capacities up to 30 are available on the Micro Bird.
One piece roof sheets from window top to window top add extra strength and durability to the Blue Bird All American Rear Engine.
Four full-length, 16 gauge exterior side rub rails are positioned to offer optimum strength and protection and are specifically designed to resist penetration on side collisions; rails are dimpled at bottom fasteners to facilitate drainage and prevent corrosion.
Drip molding visors are embossed in the Blue Bird All American's roof sheets over each window, minimizing corrosion by eliminating a need for an additional metal joint and permitting ventilation during inclement weather.
A massive 16-gauge internal continuous side plate of steel armor above and below floor line; these side plates create a wall of protection around occupants.
Comfort Aire, Blue Bird's integrated air conditioning offering, provides greater efficiency and quality than competitor aftermarket systems as the Comfort Aire system is designed in harmony with other OEM installed components.
Optional special needs equipment ensures that all students may enjoy a safe and secure ride.
Micro Bird pdf bodies may be mounted on either a Ford or GM chassis (both chassis are available with diesel or gasoline engines); all Micro Birds are mounted to the chassis using thick rubber isolators for smoother rides.
Special Needs
The Blue Bird Micro Bird school pdf not only offers safety and security, but it also directly caters to special needs students. Blue Bird understands that these special needs passengers require unique features and has engineered these qualities into the design of the Blue Bird Micro Bird to provide peace of mind for parents and transportation professionals.
Specific Special Needs Equipment/Options on the Blue Bird Micro Bird school pdf include:
Recessed wheelchair track and tie-down for safe and secure transport
Increased maneuverability from the short wheelbase and superior handling/steering to enable tight turn and curbside pick-ups if needed
Smooth operating wheelchair lifts from suppliers including Braun and Ricon and flexible wheelchair securement track locations
Optional flat floor for maximum configuration flexibility
Comfort Aire, Blue Bird's integrated air conditioning systems, for maintaining passenger compartment temperatures with maximum efficiency and the quality only provided from an OEM installed component
Exceptional passenger ride quality with Blue Bird's energy absorbing rubber isolator mounting system
Low, nonskid stepwell for easy entering/exiting the pdf by walk-on passengers
Small size for a less intimidating vehicle for sensitive passengers
*Please note that wheelchair equipment is only available on Micro Bird Dual Rear Wheel Models